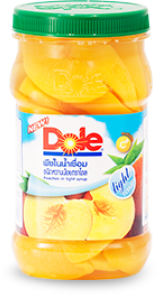 FRUIT IN PLASTIC JAR
Dole Fruit in Jar 666g, the multi-serving to get your daily dose of fruit everyday. For your family to grab healthy fruit snacks all week long.

There is no cutting, slicing or peeling. Just open the jar and taste the delicious goodness of all-natural, ready-to-eat fruit. The multi-serving jars are reasealable, too.

Dole Fruit in Jar, dedication to quality is our commitment. Enhance by dole total quality management system, started from the selection of fresh, new and quality of raw material with designed quality control system of every step.
23.5 oz. Mandarin Oranges in Light Syrup

8% Sugar of net weight
No preservatives or artificial color added

Net wt. (g) 666

Drain wt. (g) 425

Brix 16

Shelf life 1 year

23.5 oz. Peaches in Light Syrup

8% Sugar of net weight
No preservatives or artificial color added

Net wt. (g) 666

Drain wt. (g) 425

Brix 16

Shelf life 1 year