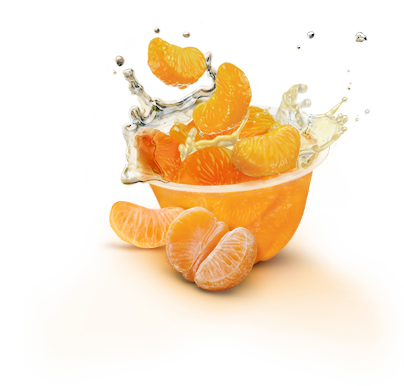 FRUIT IN LIGHT SYRUP
Redefining the art of healthy snacking, Dole Fruit Bowls let you take the delicious taste of real fruit wherever you go. Packed in plastic bowls with peel-off lids that's so easy to open. It's the wholesome snack that fits your life. No artificial color or preservative added.

Dole Fruit Bowls, dedication to quality is our commitment. Enhance by dole total quality management system, started from the selection of fresh, new and quality of raw material with designed quality control system of every step.
4 oz. Rambutan Stuffed with Pineapple in Syrup

100 % Made with Natural Fruit
No preservatives or artificial color added

Net wt. (g) 114

Drain wt. (g) 57

Brix 18-22

Shelf life 1 year

4 oz. Mandarin Orange in Light Syrup

8% Sugar of net weight
No preservatives or artificial color added

Net wt. (g) 113

Drain wt. (g) 68

Brix 15-17

Shelf life 1 year

7 oz. Mandarin Orange in Light Syrup

8% Sugar of net weight
No preservatives or artificial color added

Net wt. (g) 198

Drain wt. (g) 119

Brix 15-17

Shelf life 1 year

4 oz. x 4 packs Mandarin Orange in Light Syrup

8% Sugar of net weight
No preservatives or artificial color added

Net wt. (g) 113

Drain wt. (g) 68

Brix 15-17

Shelf life 1 year

4 oz. Diced Peaches in Light Syrup

8% Sugar of net weight
No preservatives or artificial color added

Net wt. (g) 113

Drain wt. (g) 68

Brix 15-17

Shelf life 1 year

7 oz. Slice Peaches in Light Syrup

8% Sugar of net weight
No preservatives or artificial color added

Net wt. (g) 198

Drain wt. (g) 119

Brix 14-18

Shelf life 1 year

4 oz. x 4 packs Diced Peaches in Light Syrup

8% Sugar of net weight
No preservatives or artificial color added

Net wt. (g) 113

Drain wt. (g) 68

Brix 15-17

Shelf life 1 year

4 oz. Mandarin Orange in Juice

100% Juice
No preservatives or artificial color added

Net wt. (g) 113

Drain wt. (g) 68

Brix 15-17

Shelf life 1 year

4 oz. x 4 packs Mandarin Orange in Mixed Juice

100% Juice
No preservatives or artificial color added

Net wt. (g) 113

Drain wt. (g) 68

Brix 15-17

Shelf life 1 year

4 oz. Diced Peaches in Juice

100% Juice
No preservatives or artificial color added

Net wt. (g) 113

Drain wt. (g) 68

Brix 15-17

Shelf life 1 year

4 oz. x 4 packs Diced Peaches in Mixed Juice

100% Juice
No preservatives or artificial color added

Net wt. (g) 113

Drain wt. (g) 68

Brix 15-17

Shelf life 1 year