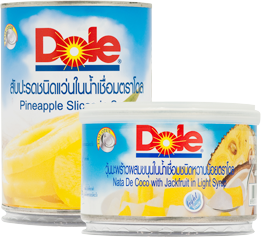 CANNED FRUITS
Dole delivers premium quality pineapple hand-selected at the peak of ripenness. No artificial color or preservative added.

For recipe ideas, Dole Slices pineapple is nice for Pineapple & Ham Sandwich, Pizza-Cut pineapple is ideal for pizza toppings, our Fruit Cocktail or Fruit Salad for fruity cakes, pastries and toppings. Choose from a variety of cuts and packing medium available to your choices.

Dole canned fruits, dedication to quality is our commitment. Enhance by dole total quality management system, started from the selection of fresh, new and quality of raw material with designed quality control system of every step.
8 oz. Aloe Vera in Light Syrup

100 % Made with Natural Fruit


Net wt. (g) 227

Drain wt. (g) 139

Brix - 18-22

Shelf life 2 years

8 oz. Nata De Coco with Pineapple in Light Syrup

100 % Made with Natural Fruit

Net wt. (g) 227

Drain wt. (g) 139

Brix - 18-22

Shelf life 2 years

15 oz. Tropical Fruit in Heavy Syrup

100 % Made with Natural Fruit


Net wt. (g) 432

Drain wt. (g) 252

Brix 18-22

Shelf life 2 year

15 oz. Mandarin Orange Whole Segment in Syrup

100 % Made with Natural Fruit

Net wt. (g) 425

Drain wt. (g) 328

Brix 14-18

Shelf life 3 years

20 oz. Pineapple Slice in Syrup

100 % Made with Natural Fruit


Net wt. (g) 567

Drain wt. (g) 250

Brix 18-22

Shelf life 2 year

20 oz. Rambutan stuffed with Pineapple in Heavy syrup

100 % Made with Natural Fruit

Net wt. (g) 567

Drain wt. (g) 340

Brix 18-22

Shelf life 3 year