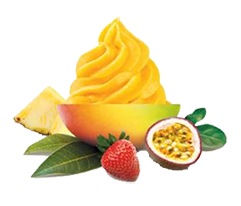 FRUIT SOFT SERVE "FRUIT DELITE"
Dole Fruit Delite, for Ice-cream and Dessert Application.

A new innovation of Fruit Soft Serve, for a healthier choice! It is a refreshing frozen dessert that is bursting with big, bold fruit flavors. One taste, and it will have your customers coming back for more. Unlike frozen yoghurt and other soft serve products, it requires no mixing prior to use – it's ready when you are.

Dole Fruit Delite is creamier than a sorbet and without the "tang" of fruit flavored frozen yoghurt. A great tasting, healthy delight, perfect as a dessert or guilt-free snack anytime.