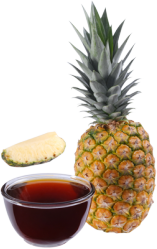 CLARIFIED PINEAPPLE JUICE CONCENTRATE
Dole pineapple juice concentrate, for Juice and Beverage Industrial Application.

Dole Pineapple Concentrate/CPAJ, dedication to quality is our commitment. Enhance by dole total quality management system, started from the selection of fresh, new and quality of raw material with designed quality control system of every step.
108 oz. Clarified Pineapple Juice Concentrate

100 % Made with Natural Fruit
No preservatives or artificial color added

Net wt. (g) 14

Drain wt. (g) -

Brix -

Shelf life -